Hej. Det här är ett konstigt blogginlägg (till skillnad från alla mina andra, synnerligen okonstiga blogginlägg) som egentligen går ut på den gamla Matrix-frågeställningen: Rött piller eller blått piller? (För er som inte växte upp under en tid när skinnrockar och pyttesmå solglasögon var det coolaste framtidsmodet så är Matrix en serie filmer från slutet av det glada 90-talet där Keanu Reeves fick välja mellan att äta ett piller som lät honom fortsätta leva i en illusion av hur världen såg ut eller att istället äta ett annat som lät honom se den fula, hemska, obehagliga sanningen.)
Så: Jag är aldrig med i tv. Fast nu har jag varit med lite i tv i alla fall. Först och främst ska det sägas att det enda jag gör i detta tv-program är att prata om amerikansk fotboll. Min fru såg en och en halv minut innan hon frågade: "På allvar, pratar ni BARA om amerikansk fotboll!?". Och när jag svarade "ja" så suckade hon "jag måste leva mitt liv" och bara gick härifrån.
Men…jo, alltså: Jag tänkte förstås berätta det här för er, och lägga upp en länk. Men jag vet inte riktigt om det är en bra idé för jag vet av erfarenhet att många som läst mina böcker tycker att jag är en stor besvikelse när de träffar mig i verkliga livet. Jag är, som mina bästa vänner brukar uttrycka det, "en lätt person att inte tycka om". Så jag är nog oftast mycket bättre inuti folks huvuden, där ingen behöver tänka "vilken störig dialekt han har" eller "vad osmart han verkar" eller "vilket jättejättestort huvud han har" eller "han pratar inte alls den sortens skånska som jag hade tänkt mig, är det där ens skånska, är han ens svensk?" eller "måste han sitta och peta på sina skor hela tiden?" eller "alltså på riktigt jag vill kasta hårda saker i ansiktet på honom slutar han ALDRIG prata???".
Så innan jag börjar dundra ut länkar till höger och vänster med mig i rörlig bild så vill jag bara säga att det finns ett rött och ett blått piller här: Ni kan låta bli att kolla på länken (jag pratar alltså BARA om amerikansk fotboll) och så kan vi bara fortsätta ha en relation där ni tror att jag är en sympatisk person med charmig dialekt och normalstort huvud. Eller så kan ni klicka på länken, och det kanske slutar med att ni inte gillar mig längre.
I så fall är det faktiskt mest ert fel.
Okej?
Okej.
Programmet heter "For love of the game" och ligger på Viafree och Viaplay. (Viafree är gratis, såvitt jag begriper det.)
Det finns två avsnitt. Jag är med i båda. Det är sammanlagt två timmar. (Min fru läser över axeln på mig nu och skriker "TIMMAR!!!???".) Och vi pratar alltså bara om amerikansk fotboll. (Fast ungefär 17 minuter in i andra avsnittet pratar jag faktiskt en del om min nya bok, och i början av samma avsnitt kastar jag en boll mot en hink och missar med flera meter. Det ser nog roligt ut om man inte gillar mig.)
Hur som helst.
Länkarna är de här:
Viafree http://www.viafree.se/program/dokumentar/for-the-love-of-the-game/sasong-1/
Viaplay https://viaplay.se/serier/for-the-love-of-the-game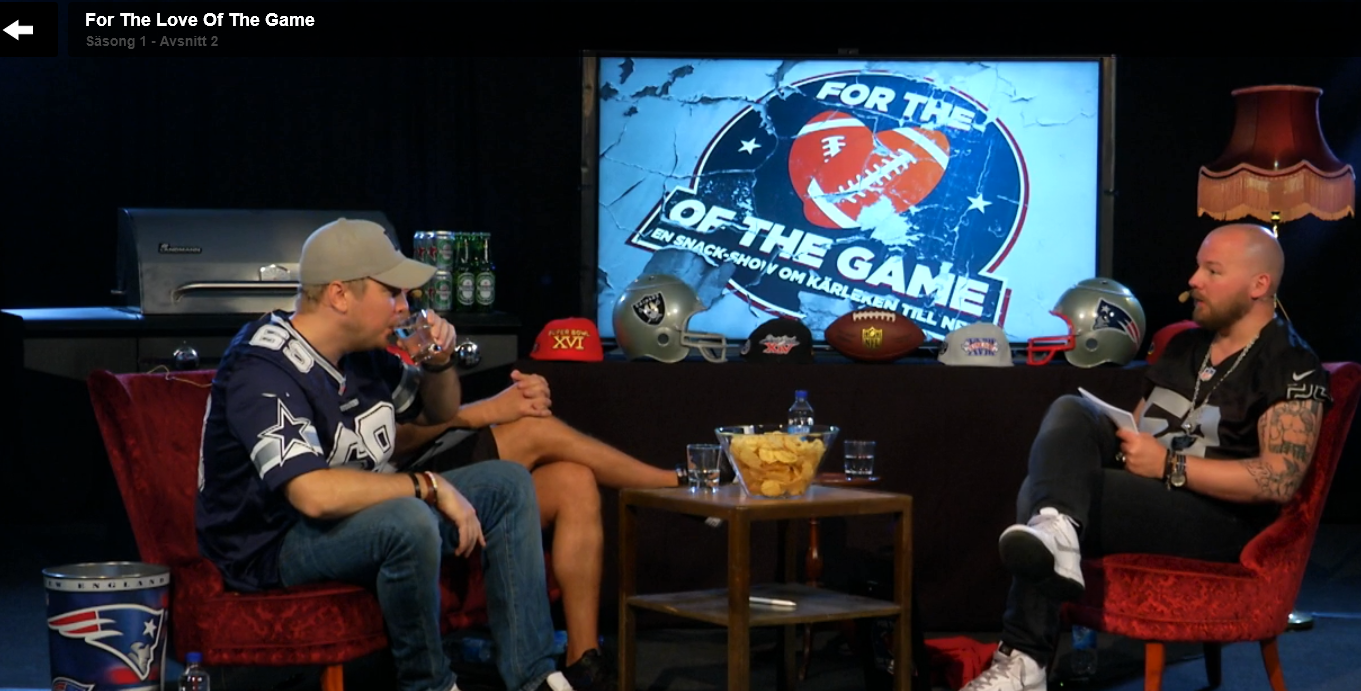 Det är jag där till vänster som dricker vatten. På frågan "är det här trickfilmat eftersom du är i en studio men det är ju fortfarande chips kvar i skålen?" så är svaret "ja".