Min fru och jag har varit tillsammans sedan 2007 (från maj om man räknar på mitt sätt, från "augusti eller typ september eller nåt kanske" om man räknar på hennes sätt). Vi gifte oss 2009. Vi fick vårt första barn 2010. Jag älskar henne verkligen. Och jag vet egentligen inte exakt hur tydligt det har framgått på mina olika bloggar, men min fru älskar verkligen Star Wars.
Och då menar jag inte att min fru älskar Star Wars lite civiliserat och rimligt som normala människor älskar Star Wars ("det är helt okej filmer men nej jag vet för fan inte vad Luke Skywalkers hemplanet heter"-nivån). Jag menar att hon älskar Star Wars som jag älskar Dallas Cowboys och potatismos. Samtidigt. När Dallas Cowboys vinner. Och det finns mer potatismos kvar fast man trodde att det var slut. Så mycket.
Och idag är det ju inte någon vanlig dag. Idag är det internationella mansdagen. Och det finns ingenting i livet jag hellre vill få fortsätta vara än hennes man.
Så jag gick och köpte biobiljetter till nya Star Wars-filmen. Och sedan köpte jag blommor. Och sedan gjorde jag det som man ibland helt enkelt måste göra för att hålla liv i ett långt äktenskap:
Jag betalade en annan man för att komma hem till vår lägenhet och göra min fru lycklig.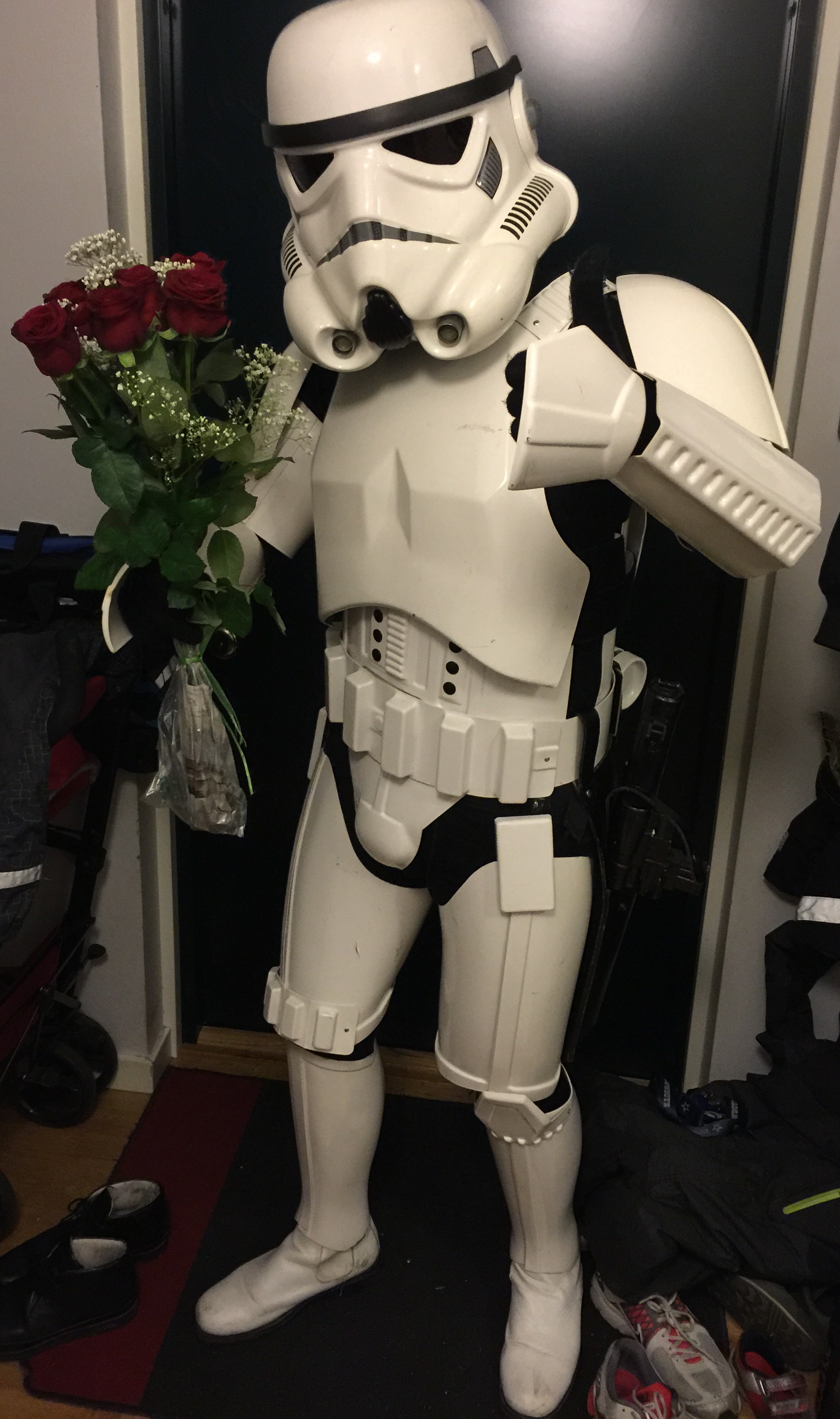 May the force be with me för att jag inte förvarnade henne så att alla foton av en Stormtrooper i vår hall nu visar hur jävla ostädad vår hall är.